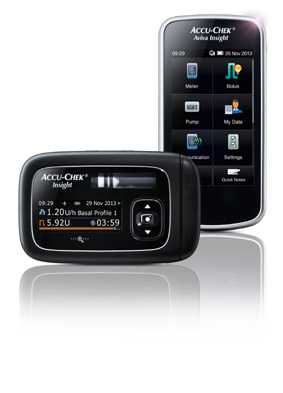 Personalized Diabetes Management – Today and Tomorrow
Cutting-edge technology and holistic approach to pay off to a simplified and improved therapy
Paris, France (February 18, 2015) -Technological innovations offer a vast number of benefits to everyday life. But do we have the right tools at hand to truly improve the lives of people with diabetes? They are required to manage their chronic condition 365 days a year. This equals about 8.756 hours of self-management and therapy adjustments. Moreover, everyday reality shows that independent of having type 1 or type 2, people with diabetes currently spend less than 5 hours per year with their specialist. The key question therefore is: What is needed to best support them as well as their caregivers in their daily diabetes management routines? Renowned international experts discussed at the Roche Diabetes Care media event on the occasion of the 8th annual meeting on "Advanced Technologies and Therapeutics for Diabetes" in Paris, France, how technological innovations like the Accu-Chek® Connect and the Accu-Chek® Insight systems as well as the holistic therapy approach of Personalized Diabetes Management support an improved therapy outcome and how they can offer people with diabetes the opportunity to live less restricted by their chronic condition.

People with diabetes are used to managing their condition on their own most of the time. Receiving the usual care, they would see their specialist only up to 5 hours per year. The other time of the year people with diabetes are urged to self-responsibly manage their condition. Moreover, research demonstrates that they often feel overwhelmed by the daily challenges posed on them by the disease. Especially when it comes to insulin therapy, the important blood glucose measurements are often omitted due to various reasons and the subsequent calculation and delivery of insulin or a snack are skipped. Moreover, the access and use of diabetes data is often challenging for patients and caregivers as e.g. only 50% of the logbooks of adult people with diabetes can be considered accurate and reliable. In addition, patients frequently neglect to bring their logbooks to their physician appointments. This often leaves a rather incomplete picture to the doctor, making data access, analyses and therapy adjustments time consuming and difficult. Other important issues that need to be addressed in this context are the complexity of handling everyday therapy decisions while managing to continue with daily tasks.
"For clinicians it is crucial that for example new insulin pump systems offer an easy handling and care for a steep learning curve by the patient", states Dr. Ingrid Schütz-Fuhrmann, Senior Physician at Hietzing Hospital, Department of Metabolic Diseases and Nephrology, Vienna, Austria. "And our experiences with the Accu-Chek Insight system exactly deliver on this need." From the 12 months experiences in her clinic, Dr. Schütz-Fuhrmann described, there was not only less training needed when patients were starting with the new Accu-Chek Insight insulin pump system. They also valued the easy handling, the less handling steps and the multi-functionality of the handheld, as this is designed to be used for blood glucose (bG) monitoring, bolus advice and full operation of the pump. "The option of direct interpretation and action on the current bG status promises a positive influence on the therapy adherence and outcomes as the wireless data transfer has shown to lead e.g. to an increased use of bolus calculation and delivery and thus to reduced hypoglycemia." said Dr. Schütz-Fuhrmann.
This clinical experience was underlined by the patient's view of Vince Cope, a user of the novel Accu-Chek Insight system from the UK. Diagnosed with type 1 diabetes six years ago, he was the first police officer in his police force to be able to go to work using an insulin pump. The device gives him confidence in everyday life, he said – be it at the front-line or working out. Preparing for and running a marathon recently, Vince Cope reported that he particularly enjoyed the easy navigation of the new system, along with the availability of data-on-screen. "I felt much more in control of my diabetes and was not afraid to have a hypoglycemia all of a sudden", he stated. "This is truly a crucial asset in this kind of sport when you do a solo run."
The confidence aspect was also one of the key findings Dr. Fabio Broglio, Assistant Professor at the Division of Endocrinology and Metabolism at the University of Turin, Italy, and his patients made, when starting to use the Accu-Chek Connect system several months ago. This innovative solution encompassing the Accu-Chek Aviva Connect blood glucose monitoring system, the Accu-Chek Connect mobile app and a web-based portal accessible for people with diabetes and healthcare professionals is designed to enable efficient doctor-patient interaction – even remotely – and informed therapy decisions also on the go. Dr. Broglio and his patients found the system particularly useful in accessing the information and identifying any glycemic abnormalities more quickly compared to a manual logbook. "Especially patients with little diabetes management experience felt more confident with the reports presented by the system", stated Dr. Broglio. He continued: "Also for me as a physician, the system offers a big potential to increase efficiencies in daily office management and I can definitely save time defining my patients' therapy adjustments compared to evaluating a traditional logbook."
"These experiences as well as the feedback from people with diabetes and caregivers alike give a clear indication that our holistic approach of Personalized Diabetes Management and the solutions we deliver for its implementation already have a very positive impact on the daily therapy management of diabetes," said Dr. Matthias Axel Schweitzer, Head of Global Medical and Scientific Affairs, Roche Diabetes Care. "As there is sound scientific evidence supporting the benefits of every single step of the 6-step Personalized Diabetes Management cycle, we are confident that we as Roche Diabetes Care can deliver not only a strong medical value but also contribute to improved structures of care." Dr. Schweitzer concluded: "We will continue to offer innovative and integrated solutions also in the future to facilitate an optimal and efficient therapy for every person with diabetes while minimizing the intrusion this chronic condition poses on their lives. At the same time we aim to tap the potential this approach offers to support a more resource-preserving and efficient deployment of national healthcare budgets."
Sources
Barnes et al., Diabetes Educ., 2004; Chen et al., Archives of Internal Medicine, 2009

Hirsch IB Endocr.

Pract. 2004; 10: 67-76

Given JE et al. Diabet. Med. 2013; 30: 901-913

Kazlauskaite R et al. Diabetes Technol.

Ther. 2009; 11: 385-392

Ramotowska A. et al.

Diabetes Metab. Res. Rev. 2014; 30 (2): 146-53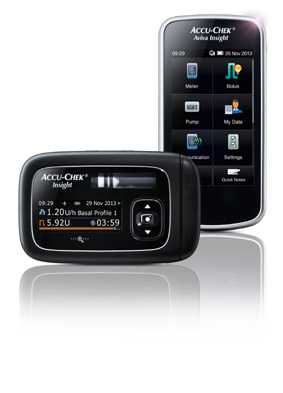 Accu-Chek Insight. Photo: Roche Diagnostics
Accu-Chek Connect. Photo: Roche Diagnostics
Personalized Diabetes Management. Photo: Roche Diagnostics
About Personalized Diabetes Management
Today's diabetes management is seeing a growing degree of personalization, with a strong focus on patient's individual glycemic profiles and an increased awareness for the importance of glycemic variability in the prevention of late complications such as cardiovascular diseases. This is why Roche Diabetes Care is researching new ways for a more effective therapy management. Furthermore the company develops integrated concepts that provide efficient capabilities for the analysis of individual glycemic patterns while evidently supporting feedback loops and an effective and informed decision making as well as an improved physician-patient dialogue. Moreover this complies with the conviction that an improved integration of therapy aspects relevant for the patient leads to an increase of motivation and therapy adherence and thus therapy outcomes. Roche Diabetes Care is working dedicatedly to enable successful and medically effective diabetes management by leveraging the concept of personalized diabetes management and providing all components needed for its implementation.
About Roche
Headquartered in Basel, Switzerland, Roche is a leader in research-focused healthcare with combined strengths in pharmaceuticals and diagnostics. Roche is the world's largest biotech company, with truly differentiated medicines in oncology, immunology, infectious diseases, ophthalmology and neuroscience. Roche is also the world leader in in vitro diagnostics and tissue-based cancer diagnostics, and a frontrunner in diabetes management. Roche's personalised healthcare strategy aims at providing medicines and diagnostics that enable tangible improvements in the health, quality of life and survival of patients. Founded in 1896, Roche has been making important contributions to global health for more than a century. Twenty-four medicines developed by Roche are included in the World Health Organization Model Lists of Essential Medicines, among them life-saving antibiotics, antimalarials and chemotherapy. In 2014, the Roche Group employed 88,500 people worldwide, invested 8.9 billion Swiss francs in R&D and posted sales of 47.5 billion Swiss francs. Genentech, in the United States, is a wholly owned member of the Roche Group. Roche is the majority shareholder in Chugai Pharmaceutical, Japan.
About Roche Diabetes Care
Roche Diabetes Care is a pioneer in the development of blood glucose monitoring systems and a global leader for diabetes management systems and services. For more than 35 years, the Accu-Chek brand has been dedicated to enable people with diabetes to live life as normal and active as possible as well as to empower healthcare professionals manage their patients' condition in an optimal way. Today, the Accu-Chek portfolio offers people with diabetes and healthcare professionals innovative products and impactful solutions for convenient, efficient and effective diabetes management. It encompasses blood glucose meters, insulin delivery systems, lancing devices, data management systems and education programs – contributing to an improved medical outcome.
---
Roche Diagnostics, 18.02.2015 (tB).